Undertrack Pool
Cover Reels
Discover our full range of automatic undertrack pool covers compliant with safety standard NF P90-308. All of our covers are made of PVC slats combined with a stainless steel axle in order to ensure a long lifespan of use. 
We offer custom-made covers that can be adapted to all pool sizes and personalised to meet any needs. Undertrack automatic covers are concealed at one end of the pool under a track. These models enable maximum concealment through seamless integration with the pool. All of Sofatec's undertrack models can be personalised and come with multiple engine options.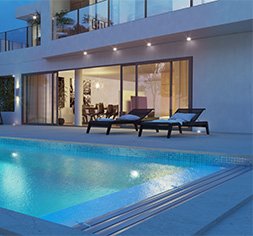 Undertrack Covers Mayotte Cover reel Our Mayotte model is an undertrack cover with a central engine. It can be installed … Continue reading "Mayotte cover reel"
Discover
Perpetual approach
of
innovation
Custom-made
Covers that adjust to you
Long-lasting
Your Sofatec pool cover accompanies you over the long term
Know-how
100% Frenche know-how
High quality
Materials that are carefully selected from our suppliers
Because you
loved
them
...
Discover or rediscover our leading products